Archive for October, 2007
One of the great names in soccer history is making a comeback.
I don't know about you, but I totally have the munchies after reading that story.
I'm not sure, but I think 45-1-9 may be the best winning percentage ever by a coach who then got shown the door.
In any case, the Greg Ryan Era ended today as US Soccer announced it will not renew the contract of the US Women's National Team coach after they finished third at the recent World Cup. Of course, USSF prez Sunil Gulati said it wasn't just the 4-0 semifinal loss to Brazil or the goalkeeper controversy surrounding that game that led to the decision, but that there were "many factors considered in this analysis." Or something. Whatever.
There's precedent, I guess. April Heinrichs, Ryan's predecessor, was forced out in Lady Macbeth fashion by Brandi Chastain and Julie Foudy resigned after a third-place finish in the 2003 Women's World Cup despite an 87-17-20 record. Chastain and Foudy made no secret of their disdain for Ryan, and they'll be able to make sure the next coach is from just the right clique as Mia Hamm is on the three-person committee that will determine Ryan's replacement. (If you look closely, you'll be able to see Chastain's hand in Mia's back when she speaks. Amazingly, Brandi's mouth won't even move.)
Anyway, Ryan will be able to find a job, most likely in the re-launched WUSA in 2009. Maybe in Chicago, where he had success as a player in the NASL and where my man Peter Wilt is calling the shots.
If that happens, I can assure you the Chicago franchise would draft Han Solo before they'd draft Hope Solo.
Okay, whether it's gamesmanship, coincidence or karma, you have to admit that the fact that
Josh Beckett's
ex-girlfriend,
Danielle Peck
(above right),
will sing the National Anthem
before Game 5 of the American League Championship Series is just….wrong. And delicious. And
schadenfreudenous
, to mangle the original German. See, Beckett (above left, obviously)is Boston's ace. He won 20 games in the regular season and is 2-0 in ("there's only one") October. And this is a game the Sox
have
to win, else the Cleveland Indians go to the World Series. And Beckett is Boston's starting pitcher for Game 5.
This isn't just going to a party and having your ex show up unexpectedly. This is coming into the board room for a huge presentation that'll determine whether or not you get that promotion and find that your ex stopped by for a tour of the office building and your boss asked her to stick around and sit in on the meeting.
Now, if you're Beckett, do you disappear into the clubhouse during the anthem? If you're FOX, do you have a camera on him? If you're Joe Buck, do you make reference to it? If you're Tim McCarver, will you have any idea what Buck is talking about?
"It's an incredible coincidence. Honestly," Indians spokesman Bob DiBiasio said, noting that Taylor Swift was originally scheduled to sing, but had to back out at the last minute.
I admit, the only playoff baseball I've watched this year was the two games of the Cubs-Diamondbacks series that my son and I attended, but this might be worth tuning in for.
UPDATE: After the US' 1-0 win over their Swiss hosts, Ian Plenderleith, who, you may remember, took Bob Bradley to task for his roster, calling it "yet one more wasted opportunity to begin molding the US team that will play in the World Cup qualifiers, actually blogged:
"Indeed Bob Bradley coached his side as though this was a game where there were three important road points at stake. Maybe that's an ideal simulation of World Cup qualifiers."
Huh. Imagine that.
Not only that, but "…Bradley now knows there are a few players he can rely on in tough road situations…"
And he accomplished that without Eddie Robinson. Remarkable.
So, over at ussoccerplayers.com, someone named Ian Plenderleith thinks it's essential that Major League Soccer make adjustments to its season calendar to reduce the club vs. country conflicts so endemic to life in soccer.
That's fine. It's not the first time that sentiment has been expressed. Won't be the last.
But Plenderleith's supporting arguments are so incredibly weak, hyperbolic and fanboyish that it's hard to take them seriously. Read the rest of this entry »
Didn't you love electric football when you were a kid? I did, even though it really wasn't that much like football and it was really hard to play. But we loved it anyway. And I love this clip, which combines electric football with really funny filmmaking:

ESPN's ombudsman, Le Ann Schrieber, gets it. I mean, she really gets it.
I love her latest column so much, I want to marry it (and if you know anything about me and marriage, that's saying a lot).
She has perfectly encapsulated not only what's wrong with ESPN, but what's wrong with our sports media culture. I know people blame the media for everything, but, seriously, the 24-hour sports network that won't be happy until it has every tendril into every orifice you have a la Gabrielle Anwar in Invasion of the Body Snatchers has taken the level of sports discourse in this country and turned the volume up while turning the IQ down.
One might conclude that there is something about the state of Oklahoma or college football, or the combination of the two, that brings out the extremism in people. But from my ombudsman's perch, I see something else. The rage is general all over the land of sport. Fans, not to mention coaches and athletes, are sick and tired of being subjected to a relentless media onslaught of opinion that is simultaneously overheated and half-baked. Unfortunately, in a kind of sports Stockholm syndrome, many of them have learned to imitate the rhetorical belligerence of the media masters they resent.
In short, their talking heads are loud, stupid and reckless, and fans are fighting back by being louder, dumber and more reckless. Nothing matters anymore except being seen and heard, regardless of what you say. Last week's completely off-base opinion is forgotten and replaced with this week's "dead solid lock" that'll be forgotten next week. Let's move on to the next caller who can shout louder than you.
Sometimes I weep for our culture. Where did we go so wrong?
I think by now we're all a bit tired of the Hope Solo story, but it just won't die. The Greatest Goalkeeper You'll Never Hear Of Again TM is still a hot topic in the soccer world, two weeks after she threw her coach and a teammate under the bus in a hissy fit over being benched for the World Cup semifinal against Brazil.
Now Abby Wambach says the whole affair may actually benefit the US Women's National Team in the future. I guess if it gets a head case off the roster, that would be a benefit.
But, Wambach went on to say:
"The shoes that we had to fill were so big that we were never sure. We were always wondering, 'Are we ever going to have that team chemistry that they once had?' I think this situation proved that we have what it takes."
What it takes to do what? Finish third? That's what you did in 2003. At home. To publicly shun a teammate like an Amish village? This is what a team does?
The USWNT is a dysfunctional family right now. Whether that means the patriarch has to be sent off, I don't know. I like Greg Ryan. I think he's a good guy, a straight shooter and a good coach. It may be to his benefit that he's not April Heinrichs, but it's unfortunate (for him) in the eyes of many that he's not Tony DiCiccio, either.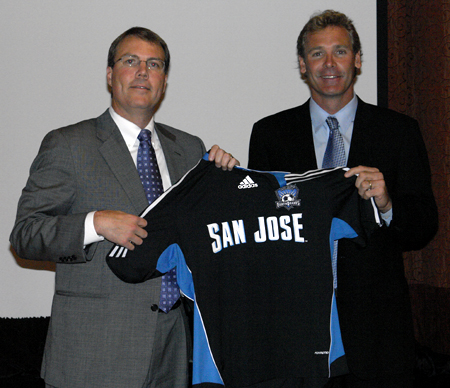 The Earthquakes will be back, which is good news for a lot of reasons: I liked going to San Jose, I thought it was unfortunate when the 'Quakes had to move to Houston and it gets us back to an even number of teams in MLS, which helps us avoid the nightmare scheduling we had this year.
John Doyle has been named as the new team's General Manager, making him another in the long line of former MLS players with zero experience hired for important positions with MLS teams.
And it's slightly ironic that their new home shirt (unveiled yesterday, above) says "SAN JOSE" on the front, when they're unlikely to actually play a game in San Jose for the next two years. They're apparently going to be the Traveling Wilburys, playing at various sites around the Bay Area (but not Spartan Stadium, their ancestral home).
Still, welcome back. Glad to have you. But those of you who ranted on Bigsoccer about how you were done with MLS when they moved the 'Quakes to Houston in the fall of 2005? Yeah, you're precluded from going to a game. Sorry.